A little about us ...
Our Leadership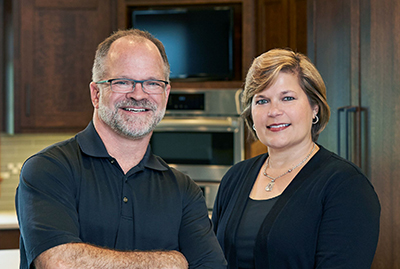 Founding Partner, Principal Designer,
Business Mentor, and Public Speaker
Our Principal Designer is Kevin Transue, who ensures quality in every outcome. Kevin is the primary creative influence to our work, dedicated to incorporating his ideas in every aspect of each project. He is personally involved, helps to oversee each effort, and is always open to new ideas.


Managing Partner, Business Director, and NARI-Certified Project Manager
Our Business Director and Managing Partner, Judy Transue, utilizes three decades of business leadership experience to keep business operations running smoothly. Our clients know that their investment is in solid hands, that we bring with us the strength of longstanding business success, and that we'll be there for them long after their project is complete.

CHC Design-Build
(formerly CHC Creative Remodeling) is a residential Design/Build specialist located in Lenexa Kansas and is licensed to serve the greater Kansas City area, with an emphasis in Leawood, Overland Park, Olathe, Lenexa, and Shawnee, with extending service throughout Johnson County Kansas and the Kansas City metropolitan area.
Specializing in unique and creative upper-end custom remodels & builds, additions, lower levels (basements), home theaters, offices, kitchens, and bathrooms, CHC holds licenses on both sides of the state line in Johnson County KS and Kansas City MO. In business since 2001, CHC has crafted award winning, beautiful, and highly functional remodels, additions, finishes, and conversions for many of Kansas City's happiest clients.
CHC is a nationally-recognized, award-winning full-service "Design/Build" company, which means that you'll have exceptionally skilled help by your side all the way from the initial concept through completion. We will help you discover the hidden potential in your home and bring out
its
award-winning personality.
CHC offers the highest quality solutions, including:
Uniquely creative architectural design!

Top quality execution of construction!
An almost obsessive attention to detail!
In short, we specialize in custom designing and building for clients who share our
desire for quality
, and we only utilize associates who share our strict
requirement for quality.
You'll appreciate our attention to detail as we attend to your home with the utmost care and respect it deserves!

Accolades

CHC Design-Build is a nationally-acclaimed member of the National Association of the Remodeling Industry (NARI). We are consistently recognized year after year with multiple 1st-place awards for the creativity of our designs and the quality of our builds! While we treasure our Kansas City area notoriety, we're also very proud to be recognized regionally in the Northern Midwest 7-state region, and even at the national level, having taken projects to the nation's stage on four occasions! See our Awards section to learn more!

The skill and professionalism of our principal designer and founding craftsman is certified by NARI, placing him in the company of fewer than 50 individuals in the Kansas City metropolitan area bearing NARI's coveted "Certified Remodeler" designation. To learn why you want to employ only NARI-certified professionals, read more ...



Philosophy
"Creativity, Quality, and Integrity" are the beliefs at the foundation of our company, and we stand firm on them through every step of each project.
CHC Design-Build
specializes in custom work. Our clients look to us to provide creative results as individual as their own unique tastes. Collaborative design is paramount to a successful project, and we understand and appreciate that your home should reflect your personality. We listen to your ideas, use our expertise to offer creative design options, and help you visualize the possible results.
It all begins with creative design,
and there is no better way to get things started!
Our commitment to operating our business with integrity parallels our commitment to NARI's Code Of Ethics. We believe our clients rest easier knowing that they've invested in a truly professional process.
Learn more about NARI's Code Of Ethics ...